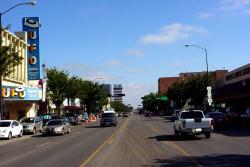 Roswell was originally a part of Lincoln County, that included all of southeastern New Mexico. In 1889 Chaves County was carved out of the larger county, and Roswell became its county seat. Chaves County also includes the towns of Dexter, Hagerman and Lake Arthur, and the communities of Dunken, Elk, Elkins, Greenfield, Mesa and Midway. The hub of southeastern New Mexico, Chaves County has a population of 63,060 *Estimated 2008 census. It is a center for irrigation farming, dairying, ranching, manufacturing, and petroleum production.
In the 1930s, Roswell was a site for much of Robert Goddard's early rocketry work. Walker Air Force Base, in Roswell, was a strategic installation of military importance from 1941 to 1967. The base was decommissioned in 1967, and Roswell lost half its population. Also known for the 1947 Roswell Incident, an alleged UFO crash ~the investigation and debris recovery was handled by the local Roswell Army Air Field which is now the Roswell Industrial Air Center.
After the closure of the base, Roswell capitalized on its pleasant climate and reinvented itself as a retirement community. Roswell has benefited from interest in the alleged UFO incident, and in more recent times the business community has deliberately sought out tourists interested in UFOs.
Roswell is also the home of New Mexico Military Institute (NMMI), founded in 1891, a nationally recognized military prep high school and junior college; Eastern NM University-Roswell; the International Law Enforcement Academy, a United States/State Department program for training law enforcement personnel; Leprino Foods, one of the largest mozzarella cheese plants in the country and several outstanding museums: The Roswell Museum and Art Center, The Anderson Museum of Contemporary Art and the International UFO Museum and Research Center.
Bitter Lake National Wildlife Refuge is located nine miles northeast of the city on the Pecos River. Bottomless Lakes State Park is located twelve miles east of Roswell on US 380.
A National Fish Hatchery and Technology Center is located in Dexter. One million fish live there -from 15 different threatened and endangered fish species. The facility includes state of the art equipment in a fully functional Fish Culture Facility, Molecular Ecology Lab, and Fish Health Unit.
For more information about Roswell and the surrounding area visit: